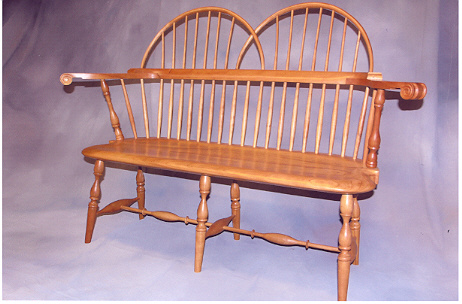 Double Bowback Windsor Bench

The Windsor Chair is an American Colonial design dating to the 18th and 19th centuries. The bench shown above is a reproduction of that classic and timeless style with a hand carved seat and arm rail. All of the legs and spindles are hand lathe turned. There are no automatic lathe duplicating devices in my shop. This bench is made from 100% solid American Cherry.

54" wide x 40" high x 20" deep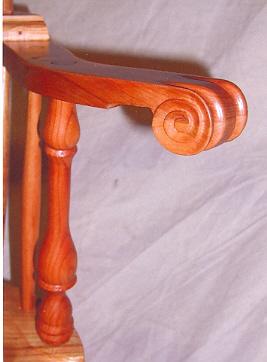 All carvings are completed entirely by hand with specialized chisels. The detail arm rest "knuckles" on the Double Bowback Windsor bench make a beautiful addition to the design.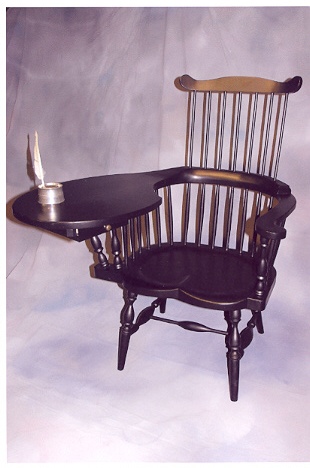 Windsor Writing Desk

This Windsor style writing desk is a museum reproduction and is another classic design for the timeless Windsor Chair of the 18th Century America. The chair is painted the customary black over an undercoat of red. All of the chair's spindles and legs are hand turned. The chair also includes a small pencil drawer with a solid brass knob under the writing surface. The writing desk is historically and accurately made from a combination of Maple, Poplar, and Hickory. The desk can be made either "right-handed" (as shown) or "left-handed".

45" high x 36" wide x 32" deep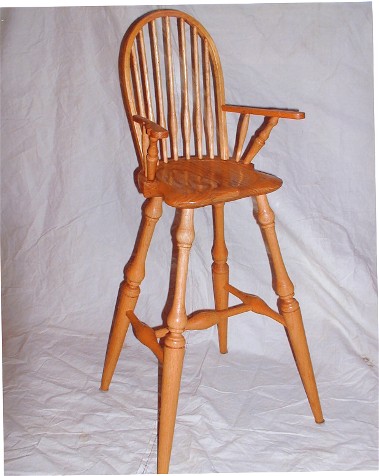 Windsor High Chair

The Windsor style Child's High Chair continues the line of classic-styled furniture pieces. The chair is made from solid red oak and is finished with a durable, non-toxic polyurethane finish for long lasting use and easy clean-up. The height of the chair allows it to be pulled up to any table at the perfect height. A tray (not shown) is available.

41" high (26" high to the seat)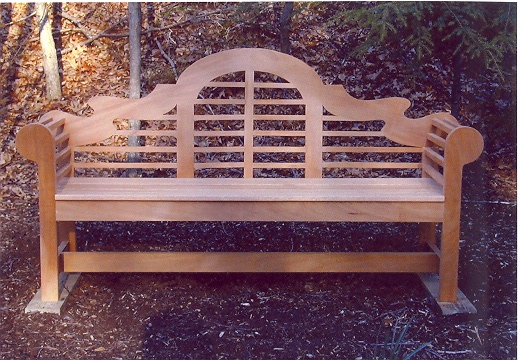 A Mahogany Luyton Garden Bench

The Luyton Garden Bench is a classic design that can be used both indoors or outdoors in the garden or patio. The mahogany can be left without any finish and will turn a beautiful silvery gray when left to the outdoor elements. An oil finish can be applied for indoor use. Water resistant marine quality adhesives, rot resistant mahogany joinery, and stainless steel fasteners are used throughout the construction for years of maintenance-free outdoor use.

75" long x 41" high x 24" deep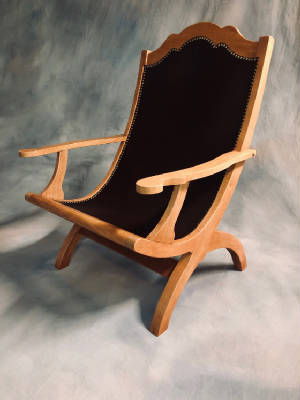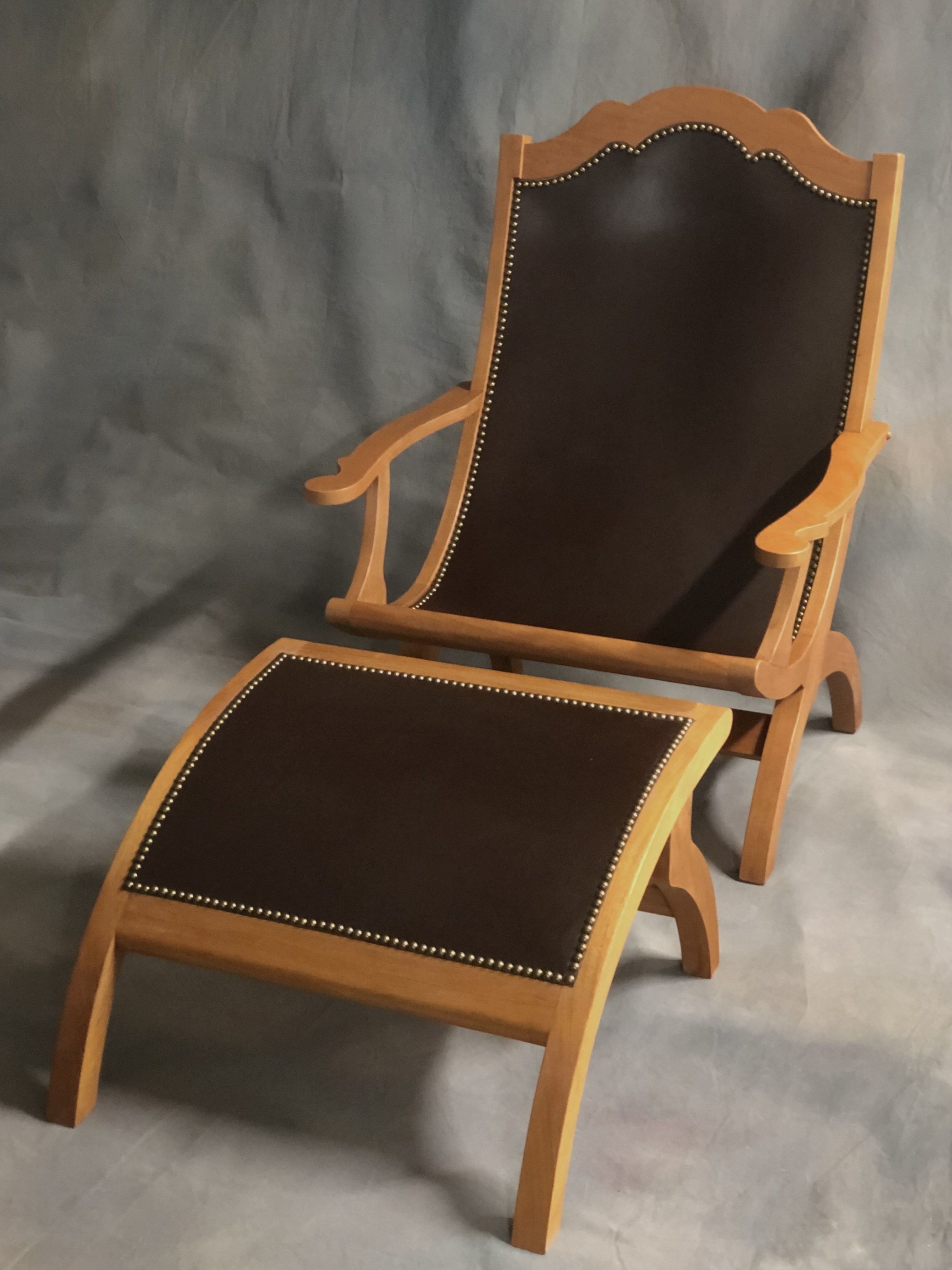 A reproduction of a Jefferson Campeachy Chair. Thomas Jefferson first saw this chair when he was in France as the Minister to France. He brought the design back to Monticello and had one of his enslaved furniture makers construct the chair.
Jefferson described it as the most comfortable chair he had ever sat in.
It is mahogany with an 8 oz cow leather sling and upholstered with solid brass upholstery nails. The original chair is at Jefferson's home at Monticello in Charlottesville, Virginia.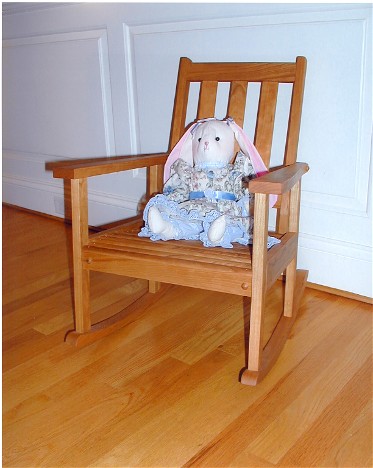 A Child's Rocker

The rocker shown here is made from solid American Cherry and includes a fine row of brass fasteners as details along the seat slat edges. The rocker is the perfect size for small children and displays beautifully in any hardwood available. Rockers have been made in Black Walnut, Mahogany, Ash, Cherry, and Hard Maple. This child's rocker makes a perfect new born gift that children will grow up with and will become a family heirloom to treasure for years to come.

24" high x 18" wide x 22" deep
A pair of solid American Cherry Neo-contemporary Windsor style chairs. The seat panels are hand carved from one piece of cherry.
The spindles are hand lathe turned.